Super Dooper Computers
Computers are around us everyday
Some help us, whilst others let us play
No matter our ages
They can put us in rages
As they carry on with their display
They have been here for many a year
Sumerian abacus, engineered
Even a textile loom
Made this business boom
Which brought us to the modern ones near
They come in all shapes and forms
In our lives, on our wrists their adorned
Even the time they can tell
From their chip like cell
When they work, it's great, they perform
So without them we'd be awfully lost
Although our tempers can become crossed
To them I'll never condemn
Terrific silicon gems
One day us humans will be bossed
It's a Myth, Women do like Spiders
The woman who dreamt of a spider
Awoke to find it inside her
With a scream and a yell
She thought, " oh! what the hell"
Eight hands, oh what a provider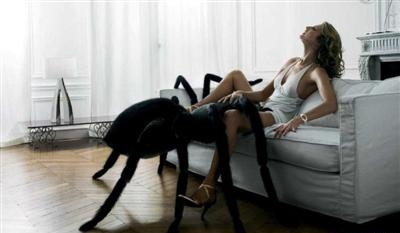 Wine Bar Yuppie
My favourite episode scene
Has to be seen, to know what I mean
'Only Fools and Horses' is the comedy show
Just watch and the laughing will flow
The scene that I talk about
Is of 'Del Boy' in yuppie spout pout
As he talks with 'Trigger' at the bar
Has his business exploits, now gone to far
In casual chat as he goes to lean on the hatch
The waiter exits, now in gravity he's detached
He rests to lean into an normal leaned meet
In rigid compose to the floor he does greet
He rises all flustered in dishevelled pose
His desire to vacate from his embarrassed compose
He clicks his heels, running a country mile
Hey Trigger I'm out of here, your cramping my style
Fishing with Respect
Two friends near a bridge start to fish
Catching whoppers is so their wish
For a meal is to be sought
So no fish need to be bought
Like a hunter hunts for his dish
Just as they are about to cast
A funeral procession drives past
A fisher takes of his cap
This most respectful of chap
The thoughts of man in contrast
After the pause reverberates cheers
A beauty caught, bring out the beers
Hey Dave, what I've just seen
Shows fishers are never mean
Well we were married for nearly 20 years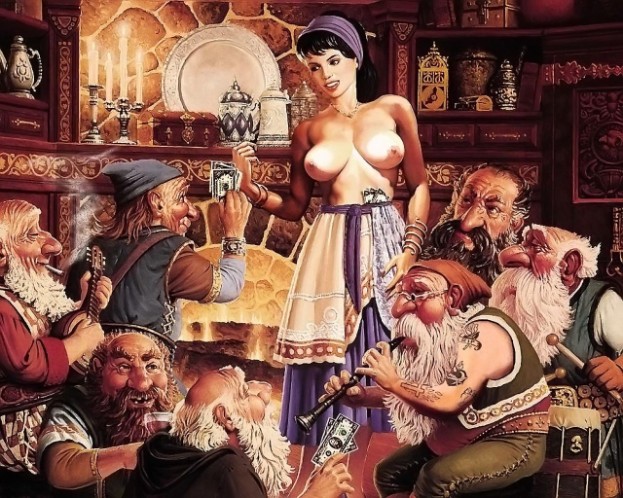 Little Guy Dwarves
Seven days and lonely at night
Was a Princess called Snow White
On her doorstep there was
Little guy dwarves
All different to view from sight
So on Monday night she did walk
To Dopey's bedroom for a talk
The conversation was slow
Up sticks did she go
At her topless body he did gawk
When Tuesday evening came around
She tiptoed without a sound
Beside bashful she sat
Blimey, not again, no chat
His eyes on me will never abound
Oh my! it's Wednesday again
Am I beautiful or just plain Jane
I better go to the Doc
Do I look good in this frock
Am I letting my shapely shapes wane
It's Thursday and I better nurse Sneezy
Whose chest has become rather wheezy
To him I won't kiss
No matter his wish
I have no desire to become queasy
Thankfully Friday has been reached
It's the weekend long lies are now preached
For Sleepy I'll never wake
No booty will he shake
My cheeks he'll never see peached
Saturday has finally come along
Even Grumpy now sings the same song
With a song and a cheer
Shared over a few beers
No chance you'll get into my thong
Have I saved Sunday to be the best
Is Happy better than the rest
His smile tells me so
For more than his cheeks glow
At last a loving grin at my breasts
Oh I need to be loved ever since
Like the weeks I had with my Prince
For many many nights
He knew to love me right
When I walked, you could see my legs wince
Koolio
There once was a Spaniard called Julio
Who was just as slippery as oleo
And so was his brief
Claims his clients no thief
When he gets of he always cheers koolio
The Very Same Tree
Racism is what really annoys me
For we were all in the very same tree
When we came down to the ground
We just spread around
And that's how there is you and there's me
Whilst Cat Woman Bathed
I had the joy to watch Cat Woman bathe
Oh my! I found it so hard to behave
With her watching kitties
Pouring milk on her titties
I'm a man, I'm human, I crave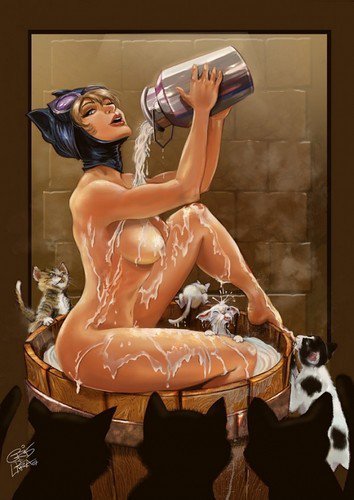 A Fight to Delight
In a snowy wintry Glen one night
Two in love in a snowball fight
One chases the other
Warm places are smothered
Yep, the ones that are so out of sight
Back to their warm Lodge they both go
To recover what's left of the snow
Undressed to delight
As their clothes take flight
They now lie by the fireside glow
Elation to Deflation
As I worked out at the gym one night
My eyes were captured in sight
By a beauty so young
With a curvy pert bum
She winked, was that the green light
Over the weeks we chatted and dated
My breasts she says, are so underrated
I said what can I do
To enhance them for you
And make you feel so elated
Oh honey, would you do that for me
When I undress you'll like what you see
They'll be so inflated
And I'll be glad that I dated
From flat chested I'll be so busty
So of to the plastic surgeon she went
Saying my money has been really well spent
I'll call you later my dear
At the gym don't you fear
In your mind you'll be full of torment
I waited and the call never came
Middle aged I'm just not in the game
I've been so well done
By a curvy pert bum
My bank balance will never be the same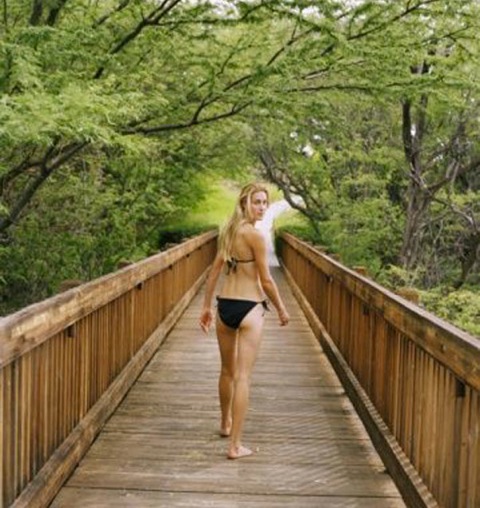 Three Men and a River
Three men went hiking one day
Arriving at a raging river in play
To each other "hey boss
How the hell do we cross
Get on your knees, we have to pray"
So the first one gets down on his knees
"Please lord, help me to cross it please"
Giving him strong arms, strong legs
Never let it be said
Nearly drowning, he now crosses in freeze
So the second who now stands on the bank
Trying to cross, he now throws a blank
To his lord he now asks
"A canoe for my task"
Nearly capsizing he crosses with thanks
So the third asks for intelligence
For his lord to make him see sense
Into a woman he's turned
Read the map she's now learned
Up river, there's a bridge there thence
Shredded Wheat
Shredded Wheat really does it for me
So yummy right down in my tummy
It reacts so sublime
As I'll know it good time
That once again we just won't agree