Eilean Donnáin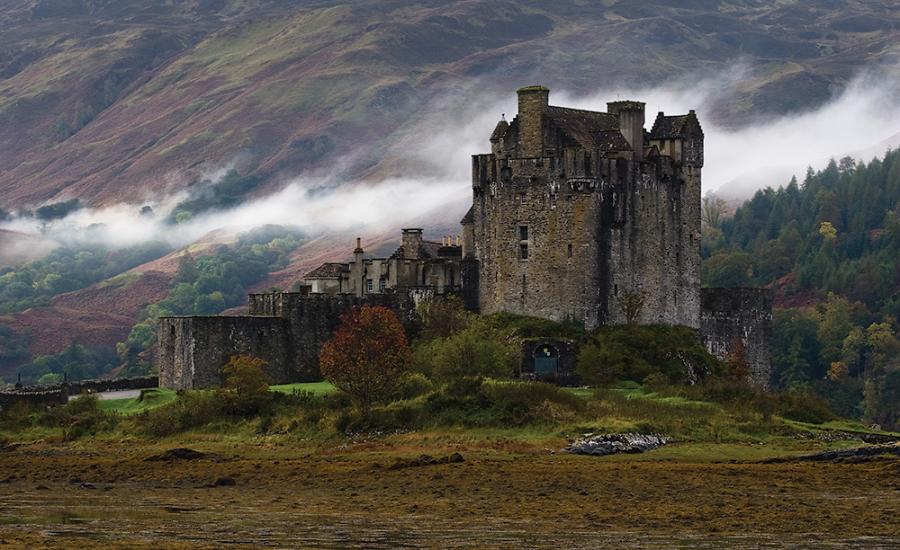 On a small Scottish Island
Stands a castle of grey
Eilean Donan is its name
On Loch Duich in display
Like all our castles
In history they are steeped
They have seen many battles
And many, many weeps
But this castle is a star
Appearing in movies through the years
James Bond and The Highlander
Brought us spys and ancient peers
It is also used for weddings
Many memories for future says
Parents remember also
The day their daughter was given away
So to all my Souper friends
To Alba you must come
See these castles of grey
To the sound of the pipes and drums
Caisteal Tioram
Our history shows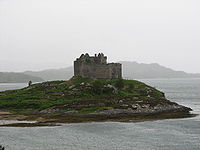 Many clannish castles fell
Dereliction death

A Most Beautiful Journey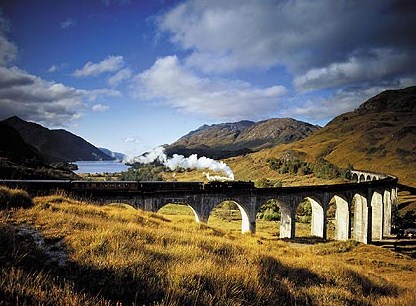 In my many poems
Of a country so rare
Spare me a few minutes
As i take you there

We are Alba
The land of the Scots
Once we meet
We are forget me not

A nation so free
In this world we reside
Bravehearts
Oozing with pride

And the news of today
Confirms my write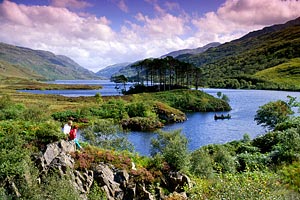 For a train journey so beautiful
Has just been named, the worlds best sight

From Glasgow to Mallaig
Gorgeous lochs it does pass
On train journeys the world over
This is above first class

Over the Glenfinnan viaduct
Its the first of its kind
Made of modern concrete
It will blow your mind

The silver sands of Morar
Like gold dust in the mist
Whilst the Atlantic tides desire
They can't take, but they still persist

The train journey i talk about
In this land of mine
It runs from Glasgow to Mallaig
Its " The West Highland Line "

So my friends on the Soup
If you get the chance to travel
Visit my Braveheart land
And watch our beauty unravel

Blue Runs Through Me True

If i was born a crayon

My colour would run its length
It would be of Saltire Blue
My countries colour gives me strength

We are the colour of the sky
It looks down on you and me
Its the colour of our flag
That flies the pride in me

If i was born a crayon
It would always be coloured blue
Just look to my veins
Blue runs through me true
Beinn Nibheis
I sit and pause, looking at the sky blue ceiling above me. White vapour cotton wool clouds gently float
like water lilies on an upside down pond. My humble seat, an igneous rock from the Devonian period. A
glaciation past has moulded this comfort to rest this weary climber. I am in fortunate delight as this
skyscraper of old can turn nasty with nature. These marvels can unite and lure unsuspected hikers, and
draw them into a weather world they have never known. The gulley's and faces of this quite wonderful Munro
hide challenges and dangers for all who dare climb. Many have been lost as they become disorientated, as
natures weather closes in.

The ascent route to the summit on a day like today is quite wonderful. The beauty of the glens, with their
sporadic mix of andesite and basaltic lava mountains, rival many a range on our fine planet. Many colours
explode on the surrounding canvas. Greens and beige's, greys mingling with red granite masses. Screes are
in evidence, a sign of the range ageing as natures seasons take their toll. Plant life carpets the slopes,
where grasses of sorts mingle with the purple and white heather. Ferns from a prehistoric age fan out
catching the breeze, like Sea´ ferns´ in the ocean.

As i climbed, at various intervals i would close my eyes and listen to the calls of the wild. The sporadic
bleating of sheep, as if echoing through the glens. Crows and their hooded cousins fly sorties looking for
carrion of such. Suddenly they scatter, as royalty makes a welcomed appearance. As majestic as the King of
the mountains can be, a Golden Eagle glides on the thermals. His subjects looking on from a distance, for
fear of angering him. Rabbits, lizards and even sheep and lambs, bow down in whatever chambers of safety
allows them. As graceful as he arrived, he leaves. Slowly but slowly, the lookouts of the species declare
their haven a safe zone.

This climb has certainly given me a thirst, as the thinned mountain air leaves me tired. Nearby a small
stream offers a weary climber a much needed tonic. This pure fresh translucent chemical substance quenches
my crave, with a gentle splash over my sun beaten face, i feel refreshed to a point.
Gravity enters my thoughts, what ever goes up has to come down. As i start my descent from the summit of
this giant of the Grampians. My journey down is so different to the ascent. Clouds build for the evening
mass. The breeze has magically transformed into a cutting wind, as the tallest of ferns whistle a goodbye.

The melting snows still show their march, small waterfalls run into fast flowing burns. Lambs now hug
close to their mothers, its as if they know nightfall is upon them. The quietness of the glens are a
memory now as modern mans noise appears from the distance. The local mountaineer team are on the ascent on
a training exercise. These unpaid volunteers put their own safety in danger to save others who are in
danger. The orangy glow of street lights confirm my descent is complete. I head back home, tired, weary
from my day on the highest mountain in my homeland. But so alive in the joys and sights that it allowed me
to share on this day.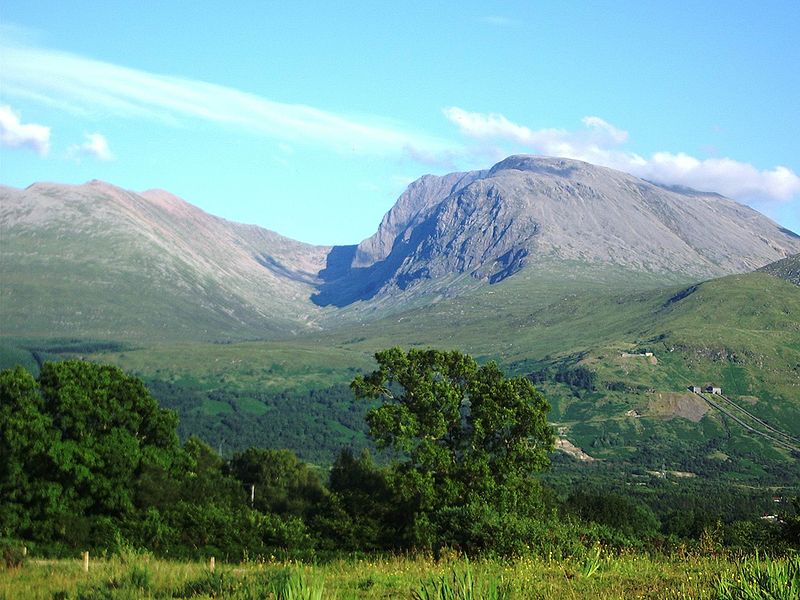 Storm over the Glen

Through my living room window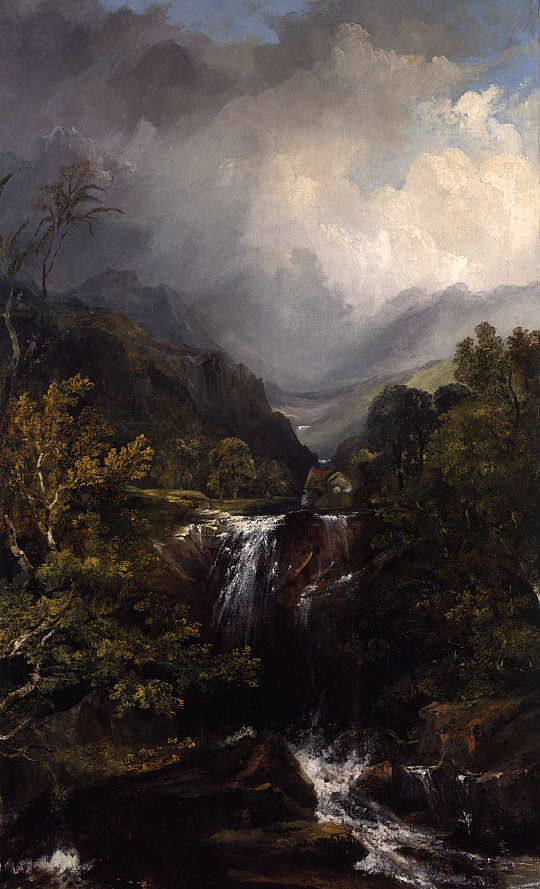 I see the most beautiful glen
With granites of grey
Towering up to a Ben

Greened spreads of heather
Purples and white
Amidst an ocean of green
A most wonderful sight

Forested slopes
Carpet the glens sides
Whilst a sparkling river
Centers the great divide

I look to the skies
As they turn battleship grey
An impending storm
Is heading my way

It looks like the glen
Is in for one hell of a night
The last storm we had
Was an explosive delight

Fork lightening, thunder
Obscured by clouds
One follows the other
Arcing out loud

I await the winds
And the vertical rains
Lashing with force
Against my cottage panes

Suddenly, theres a massive roar
More powerful than I have heard before
A sheet of lightening lit up the sky
Capturing the Ben of granite high

This man of old, caught in silhouette
Standing guard over his beautiful glen
This icon, this keeper of the Saltire Blue
Stands tall and proud like Highland men

Hours pass as I look on in awe
From my cottage window through the rain laiden panes
The power of nature in many scenes
Drums and a light show washed down with champagne

I, a Scottish Golden Eagle

I, a Scottish Golden Eagle so regal on the breeze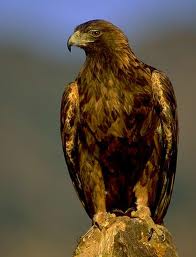 To soar on thermals high over Scottish Glens with ease

To look down on the lands of kilted, pipes and lochs
Witnessing the scattering of our clans, be present at our loss